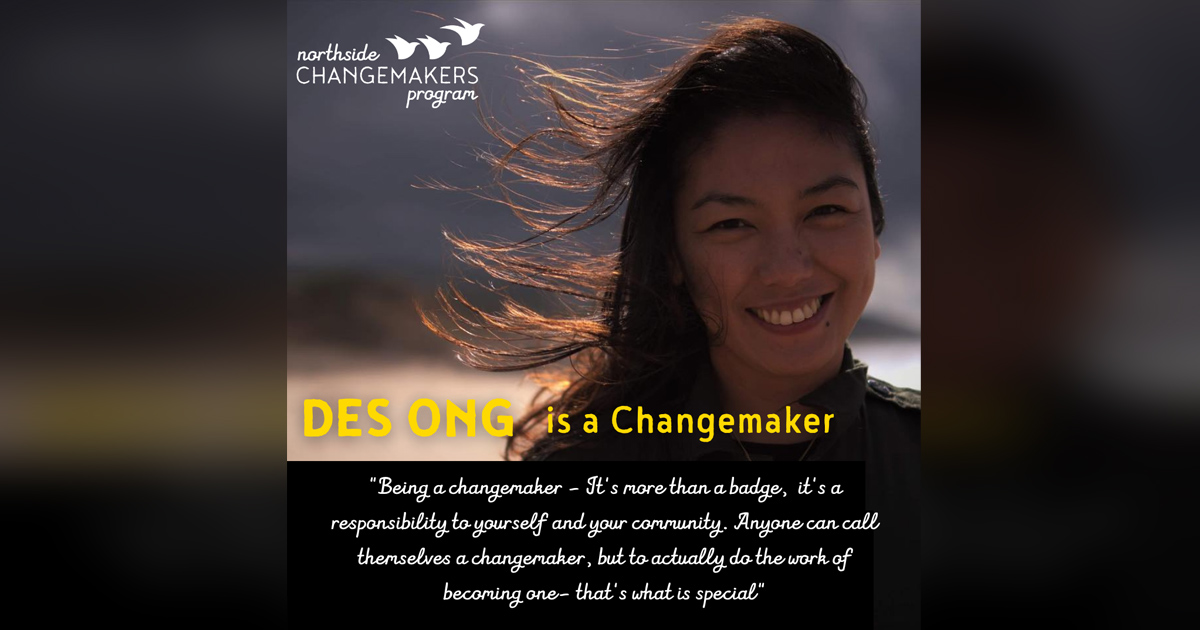 Interview provided by Northside Rising, an Inspiring Communities nested initiative.
1. Tell me a little bit about yourself.
Hi! My name is Des and I am from Manila, Philippines. I moved to North Sydney in 2019 with my husband (Arden) and son (Kai).
We (my husband and I) were both accepted into Cape Breton University and it was through there that I completed my postgraduate studies in Business Management. In my off-time I love doing yoga and all things creative. Back in Manila, I used to create handcrafted accessories.
2. How did you hear about this program? What drew you to apply?
After I completed the Business Management program, I was reflecting on what to do next.
The Northside welcomed my family with such open arms, and my husband and I have been working on finding ways to give back.
I had been talking with other colleagues of mine from the Atlantic Canada Study and Stay, trying to find ways to get more involved in the community.
I was browsing Facebook and saw an ad for the ChangeMakers Program and felt a pull to apply! I thought, "maybe I should try this out." It seemed like a perfect way to learn more about my community, and how to best give back. So I applied and I am so excited to be part of the program!
3. What do you love about the Northside? What makes it special?
Since graduating from Cape Breton University, My husband and I decided to stay in North Sydney because it is so peaceful and the people are so nice and accommodating.
When we arrived in May of 2019, my son was still able to attend school and was welcomed by both staff and students. We see the support for our family here, and we see ways that we can also give back and be part of that support.
4. When you think of the word Changemaker, does anyone or anything you know come to mind?
Being a changemaker, it's more than a badge, it's a responsibility to yourself and your community. Anyone can call themselves a changemaker, but to actually do the work of becoming one- that's what is special.
Everyone can dream of what can be, but when people act on their dreams– that's when it becomes reality.
To me, the Changemakers Program is a door which helps people take their dreams and talents and turn them into something which will impact them and their surroundings.
5. What are you hoping for the Northside? Why is that hope important to you/ the community?
I am hoping for more hope on the Northside.
I hope for it to be abundant and successful, I want people to be successful in their businesses and in their lives.
As a collective, I want the Northside to be abundant in community resources.
This hope is important to me because the people here deserve that success, they deserve that hope. People are so kind and giving– they deserve that level of abundance and happiness.
6. What makes you feel inspired or feel like your best self?
I always try to have a bigger picture of everything.
In everyday life and everyday challenges it's easy to feel uninspired or ungrateful. Looking at the higher purpose for myself and reminding myself that there is a bigger picture which is leading me to greater things…..that keeps me inspired day to day.
Rapid Fire Questions
(Adapted from Brene Brown Rapid Fire Questions)
Fill in the blank: Vulnerability is _______________
Being true to yourself and to everyone around.
You're called to do something brave, but your fear is real and stuck in your throat. What's the first thing you do?
I try to do some walking or stretching or try to do something else first (such as eat snacks or play with my son or play my ukulele) to somehow shake my fear away then go back and hopefully have a new perspective on how to tackle the challenge (even if I'm still scared) and tell myself, " you have nothing to lose."
What is something that people often get wrong about you?
That I'm snobbish– people think I am not as approachable when they first meet me, not realizing how friendly I am.
What's the last show that you binged and loved?
This is us
Give us a film you really love?
Recently, "Soul" , a Pixar film about an inspired life, I loved it.
What's your favourite meal?
Any pasta!!
What's on your nightstand right now?
Crystals and an intention paper with things I would like to manifest in the upcoming week.
Give us a snapshot of an ordinary moment in your life that brings you great joy?
At night, when all the tasks are done and I spend time with my best friends: my husband and my son…..( sometimes with a beer or tea!)
What is the one thing you're deeply grateful for right now?
This community in North Sydney, it's something almost beyond words for me. It has been our first home in Canada and we have received so many blessings and such amazing support since we have been here. That is why I am in this program, so I can really work to find ways to connect, and help the people who have helped us so much, which is why I really try and connect with others.