Megan MacLeod

Project Lead
Megan MacLeod grew up on Boularderie Island and now lives in Cape Breton after 12 years living elsewhere in Nova Scotia and abroad. When she's not tending to her garden or enjoying the natural beauty of the Maritimes, she's fermenting something new in the kitchen and cooking with local products from the food hub and farmers market. She has a Masters Degree in Food, Culture & Communication: Human Ecology & Sustainability from the University of Gastronomic Sciences and studied Human Nutrition at St. Francis Xavier University.
Her past work for a variety of businesses, social enterprises, and non-profits has included education, community-building, and food systems. She is passionate about further understanding the relationships between people, food, environment, and health. Megan is excited to be a part of the momentum that is already building behind Northside Rising and to get to know more people on the Northside. Stop into the office and say hello!
Suzi Oram-Aylward
Program Coordinator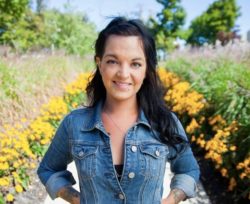 Suzi Oram-Aylward is the Program Coordinator for the Northside Changemakers Program – an inclusive program designed to build leadership capacity and civic engagement on the Northside. As part of the Northside Rising team, Suzi plays a key role in designing, delivering and evolving the program. 
Suzi is a recent graduate in Community Studies as well as a visual artist living in Unama'ki-Cape Breton. She explores art as a mechanism for engaging youth and the community-level in social change.
"Art can be a powerful channel, allowing people to take action and have voice in issues that affect them." 
In addition to her studies, Suzi has also worked as an outreach worker in various organizations across the Maritimes including Welcome Housing and ACAP Cape Breton. When she is not working, she can be found in the studio, or combing the beach looking for inspiration for her next project. 
Contact Suzi: saylward@northsiderising.ca 
Des Ong
Network Coordinator
Originally from Manila, Philippines, Des came to Canada in 2019 and completed her post- graduate studies in Business Management in 2021. Des was also one of the participants of the
Northside Changemakers Program. Before coming to Canada, Des was working in advertising, public relations and was also a creative entrepreneur. Currently, Des also volunteers for Cape
Breton Local Immigration Partnership specifically supporting the Immigrant Advisory Table.
"As a person of color and a newcomer in Canada, I am excited to see how I can contribute to the communities we serve here in Cape Breton and across the province through the IC network!"

What book has influenced you greatly? how?
"A lot of books have influenced me throughout the years, but I would go for Celestine Prophecy – the psychological and spiritual components of the book really resonated with me and stayed with me up to today."
Contact Des: long@northsiderising.ca 
Evelyn Headley-Boutilier
African Nova Scotian Community Engagement Industry Specialist (ANSA)
Evelyn was born and raised in Glace Bay. She counts as her greatest achievements "being a mom to 5 daughters, stepmom to 3, grandmother to 7, great grandmother to 1."  Evelyn brings a diverse skill set and practical experience to her role. In her former positions she advocated on behalf of clients. She has a natural talent for relating to people. Having worked as a Court Support Worker for more than 14 years, and 3 years as a Career Practitioner, Evelyn enjoys helping people reach their goals. Her education includes a Community Residential Worker diploma, Human Services with a focus on Psychosocial Rehabilitation. She completed the NSCDA Certification and the NSCDA Case Manager training programs. Evelyn enjoys knitting, sewing and cooking for her family.
"As an African Nova Scotian woman, I feel I will bring a unique insight to this position. I strive to maintain an excellent performance record and hold a reputation for dedication and an excellent work ethic."