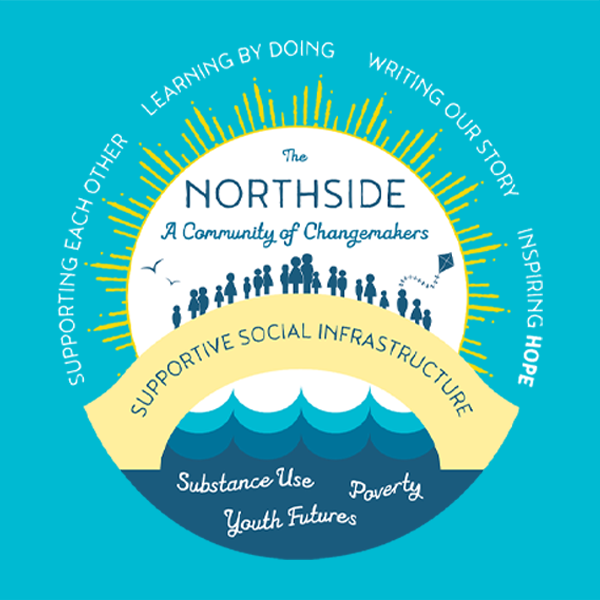 Why We Created This Program
Northside Rising believes in investing in Northsiders. The Northside Changemakers Program is centred around the idea that we all have the potential to be agents for positive change. Through shared learning, mutual support, and creative experimentation with community change ideas, we can build the collective capacity to bring about the change we want to see and be a part of creating. In the words of Margaret Mead, "Never doubt that a small group of thoughtful, committed, citizens can change the world. Indeed it is the only thing that ever has." Our approach is rooted in a belief in the power of hope. In order for positive change to happen, people must have hope and agency – the sense that they have what it takes to translate their hope into action. At the community level, hope has the potential to be the foundation for broader change. The Northside Changemakers Program embodies "hope in action" and an active form of narrative shift, centring community members as the agents of change and as the impetus for collective hope and agency.
About the Program
The Northside Changemakers Program is designed to build leadership capacity and civic engagement on the Northside. Over 5 months, a cohort of 10 participants take part in 10 participatory learning sessions on community change, anti-oppression and project management to empower them as Changemakers. Throughout the program, we support and fund participants to develop innovative community initiatives responding to the unique needs and opportunities of the Northside. Participants also receive one-on-one coaching to help them achieve their goals.
Over time, after multiple cohorts of community members have gone through the program, our aim is to shape a community of practice with a shared approach to positive change. This network of Changemakers will provide meaningful momentum for broader community mobilization.
Who The Program is For
The Northside Changemakers Program is designed for community members who have hope for their community and need support to put their hope into action. We prioritize people facing poverty or additional barriers to active participation in the community, including: racialized minorities (newcomers, Indigenous), those with lived experience with substance use, and those living with disabilities. This program places a high priority on reducing barriers to participation by providing a stipend, and additional support for childcare and travel. Additionally, we loan laptops to participants that might not have regular access to one. 
Learning as We Go
In designing this program, we knew that we were aiming for "roughly right". We started by gathering input from context experts in our community. We took that input and wove it through the expertise and passion of our Northside Rising Team to shape a pilot program that could give us a starting point with room to grow, change, adapt, and learn.
We are in the midst of our first offering of the program, and we are learning alongside the passionate
citizens of this community who care deeply about contributing to positive change. We've been paying attention, so that we are not just learning about how to improve the program, but also learning about the community and how best to support people. We do this by:
Holding in-person orientations with intake interviews, followed by exit interviews at the end of the program
Hosting a mid-point group reflection
Making space for learning and reflection during 1-on-1 coaching sessions
Gathering stories from participants
Debriefing as a team every week to pool and distill what we are learning
Preparing for a comprehensive team workshop to translate these learnings into an improved iteration of the program for the next cohort
Big Questions We Still Hold
How do we find and trust the boundaries of the support we are offering? Where does our role end and the role of community service providers begin?
The program isn't a fit for everyone. Who could benefit most from it?
How do we translate impact on the lives of individuals in the program to collective impact? How do we build a community of practice?
How do we measure the ripple effects in the community?
Stories of Change
Each participant has shed light on what it means to them to be a changemaker, and events in their lives that have contributed to their motivation to make a difference. Meet some of the Northside Changemakers on Wayside: